Current Transformer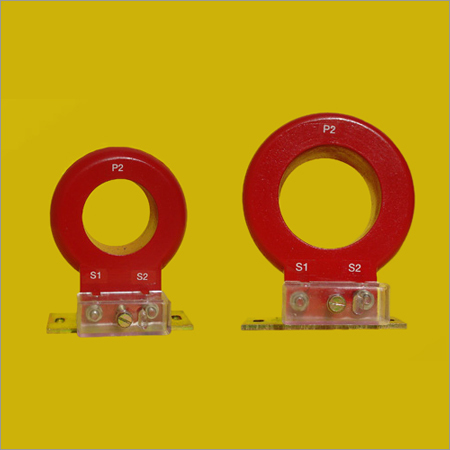 Current Transformer
Product Description
Current Transformer
With our complete know how of the domain, we have been able to manufacture and export a foremost assortment of Current Transformer. Best known for their innovative technology and accurate functioning, these transformers are used for the measurement of alternating electric currents. We employ ultra modern techniques and quality approved materials to manufacture these transformers, in accordance with industry set norms and standard. In addition, our clients have the advantage to customize Current Transformer as per their needs.

More Information About Current Transformer
Instrument transformers are widely used for converting current/ voltage from high value to a lower standard value. Current transformers perform two basic functions:
Provides a constant current on the secondary, which is either 5 Amps or 1Amps

Dielectric isolation of primary from the secondary is one of its major function
Current transformers are used for measurement of alternating electric currents. These transformers measure the secondary current accurately and error lies between 5% to 120% of the rated current. Furthermore, the errors are of two types, phase displacement and current [ratio]error[in%].
Protective current transformers are identified on the basis of accuracy class, accuracy limit factor and burden. The errors of the protective current transformers are defined according to the measurement of full load current and also on the accuracy limit factor times the loaded current. PS current transformers is another class of current transformers and their performance varies from the performance of current transformers or protective current transformers. PS class current transformers have the following features:
Knee point voltage
Nominal ratio
Secondary resistance at 75
High current at KPV or a stated percentage
Constructional Features Of Current Transformers:
Current transformers are of following types: ring, wound primary or bar primary. Our organization, Navago, uses electrolytic grade of copper for primary and the secondary winding of these transformers.In the bar primary version, the bar is inbuilt with the CT, which is the difference between ring type and bar primary current transformers. Ring or bar primary current transformers can not used for large output. Therefore, wound primary current transformers are used for this purpose.
Special Current Transformers:
Summation Current Transformers: Objective of the current transformers is to maintain the flow of current as per the number of feeders. Association of the feeder current transformer with the different number of feeders is called summation transformer. These current transformers are tested on varied parameters of quality by our professionals to ensure these are defect free.
For detecting earth fault currents, CB CT or a zero sequence CT is the method. At 5 to 10 amps of current, protection operation is feasible.
Following information is required for the manufacturing of CB CT, as per your requirements:
Type of relay and setting of relay
Primary operating current
Lead resistance from relay to CT
Finished dimensions, especially inner diameter
System voltage and insulation level
With the above information, our organization, ensures that the manufactured CT has compact size with optimum turn ratio and having the requisite KPV.