Phase Failure Relay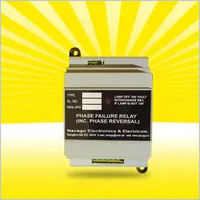 Phase Failure Relay
Product Description
It is our main motto to serve the customers with maximum satisfaction through supplying high quality Phase Failure Relay. Available in Plastic sealed and flux proofed types, these relays are suitable for bearing the voltage fluctuations in case of a power phase failure. Our Phase Failure Relay is made by a team of veteran professionals, following the norms and guidelines laid down by the industry. High dielectric strength and advance operational life are some of the salient attributes of our relays.
Features:
Manual switch function & Easy operation
Sturdy design with Competitive Price
Fastest Delivery Quality Product
Capacitor load up to 200uF
Creepage distance:8mm
Dielectric strength more than 4000VAC
Environmental friendly product (RoHS compliant)
Popularly called as Single phasing preventer, the Phase Failure Relay operates instantaneously and safeguard the motor under any of the following states:
When any one of lines to the motor is disconnected.
When the connections of motor are reversed in phase.
Unbalanced voltage supply.
Tests:
Before dispatch, the relays are thoroughly tested to ensure their reliable operation in the application. All the relays are routine tested at 2Kv for 1 minute.
Specifications:
System : 415 V, 50Hz, 3Ph
Voltage Variation : +10% and -20% of system Voltage
Auxiliary : 1 set of 1 N/o & 1 N/c
Relay contacts : Change over contacts
Rating of relay contacts : AC - 220 VA (Inductive) or 400 VA (Resistive) or at 415 volts Max 5 amps.